James' viral article NYC IS DEAD FOREVER… HERE'S WHY, is one of those articles in which I know the author is wrong without even having to read it. Yes, the headline is hyperbole and he does not literally mean that New York City will become like Detroit or Baltimore, but the premise that New York will suffer an irreparable decline or has died, can probably be dismissed outright. However, I decided to entertain his argument nonetheless. This is a topic that has generated immense interest, and it would be helpful to readers to explain why James is wrong.
He start with the hyperbole again:
Now it's completely dead.
It depends how one defines 'dead'. Being that I do not live in New York City, I have to rely on news reports and other second-hand information. But getting the strait story on what specially is open or closed is surprisingly difficult despite the intense media coverage surrounding the New York lock-downs and quarantines.
Part of the problem and adding to the confusion is that a distinction must be made between New York (the state) vs. New York City, because they have differing policies regarding what is open or not. The New York Times put out an update a week ago about the status of all 50 states. Phase 4 of New York's reopening began on July 20th:
Gov. Andrew M. Cuomo, a Democrat, announced limited and phased reopenings by region starting May 15. New York City, the hardest-hit region in the state, became the last to enter Phase 4 of reopening on July 20. But unlike in other regions, indoor dining at restaurants remains prohibited in New York City. Read more »
Here is what's open:
-Retail Retail stores; Malls in some regions
-Food and drink Outdoor dining at restaurants in some regions; Indoor dining in some regions
-Personal care Hair salons, barbershops; Tattoo parlors, massage parlors, nail salons
-Houses of worship
-Entertainment Bowling alleys; Museums and aquariums
-Outdoor and recreation Beaches; Fishing and hunting; Public pools and playgrounds; Outdoor zoos, botanical gardens and nature parks; Gyms
-Industries Construction, manufacturing; Offices; Film and TV productiom
However, New York City does not yet allow indoor dining, although other cities do. It really depends the specific region. NYC malls may reopen on the 9th of September. As for NYC movie theaters and comedy clubs, it's hard to get a definitive answer. None of these policies are set in stone, in that it is possible for club owners to reopen in spite of the ban, by making certain adjustments to enforce social distancing (for example, hosting comedy shows outside on rooftops).
Overall, this does not seem that bad, at least from the standpoint of the consumer. It sucks that movie theaters are closed, but there is Netflix instead. It is probably much worse for businesses not being allowed to operate at capacity. But it's still a far-cry from NYC being dead. Assuming the rate of new Covid cases continues to fall, the reopening will continue, until eventually almost everything is restored to normal. Some businesses will be closed for good, but new ones will replace them, taking advantage of lower rent and special subsidies.
Every day I see more and more posts, "I've been in NYC forever but I guess this time I have to say goodbye." Every single day I see those posts. I've been screenshotting them for my scrapbook.
There are tons of stories about people leaving NYC in droves, but all these stories, including James' article, omit the most important details, those being trend and the variance. Without this information ,it is impossible to know if this supposed exodus is truly an outlier or not. Even in thriving cities during strong economic times, there is always going to be an outflow of residents, but also an inflow. So what we need is the net migration of New York City on a monthly or yearly basis, and then the variance. None of this information is supplied, nor is it easy to find, especially given that 2020 is not over, so the required data aggregation may not be complete. But even before Covid, NYC's population was already falling: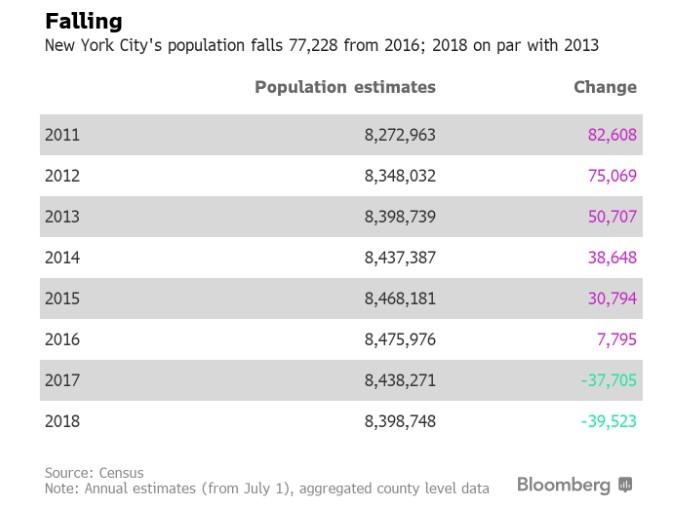 So it would appear Covid coincided with an underlying trend that had already been in place for 3 years.
James continues:
Midtown Manhattan, the center of business in NYC, is empty. Even though people can go back to work, famous office buildings like the Time-Life skyscraper are still 90% empty. Businesses have realized that they don't need their employees at the office.

In fact, they've realized they are even more productive with everyone at home. The Time-Life Building can handle 8,000 workers. Now it maybe has 500 workers back.
This may be true, but again, key information is omitted. We also need to know the occupancy rate of the Time-Life building before Covid, and the long-term trend of NYC high-rise occupancy. I believe that even before Covid, skyscrapers tended to have a low occupancy rate. Just giving a single data point (which is un-sourced and may not even be correct) without any context, is useless. I am not saying that I am that smart, but this is just elementary critical thinking.
NYC has never been locked down for five months. Not in any pandemic, war, financial crisis, never. In the middle of the polio epidemic, when little kids (including my mother) were becoming paralyzed or dying (my mother ended up with a bad leg), NYC didn't go through this.
As discussed above, only certain parts are locked down, not the entirety of the city, unlike Wuhan, and it is gradually reopening.
And then in June, during rioting and looting, a second wave of NYCers (this time including me) left. I have kids. Nothing was wrong with the protests but I was a little nervous when I saw videos of rioters after curfew trying to break into my building.
Wow it is as if diversity has its downsides. Took him 25 years, when he first moved to NYC, to see that.
Many people left temporarily but there were also people leaving permanently. Friends of mine moved to Nashville, Miami, Austin, Denver, Salt Lake City, Dallas, etc.
Right, but if you have a large network of friends, as James evidently does, then there will always be some friends who are moving, for whether reason. It is amusing how James invokes these imaginary friends of his whenever he tries to make a point. It is the same as saying "some people…," in an attempt at forming a false consensus to bolster one's argument.
Now a third wave of people is leaving. But they might be too late. Prices are down 30–50% on both rentals and sales no matter what real estate people tell you. And rentals are soaring in the second- and third-tier cities.
That is false (NYC home prices have only fallen around 3% YOY and rental prices only down 10% YOY), and it is not according to 'real estate people,' but the actual data aggregated by many sources and compiled on reputable sites such as Zillow.
Robyn was looking at listings around Miami and then she saw an area we had never been to before. We found three houses we liked.
Robyn is his wife. Third time's a charm!
To be continued